Are you sick of running out of Hot Water?
Switch to gas hot water and you'll have hot water on demand.
Are you wanting to find out the cost to install a gas hot water system?
Contact us to organise a free no obligation quote for your Gas Hot Water Installation.

We provide accurate quotes by coming out to get all the relevant information because no one likes extra costs added at the end.
You could be enjoying all the benefits of a gas hot water installation in no time.
Contact us today.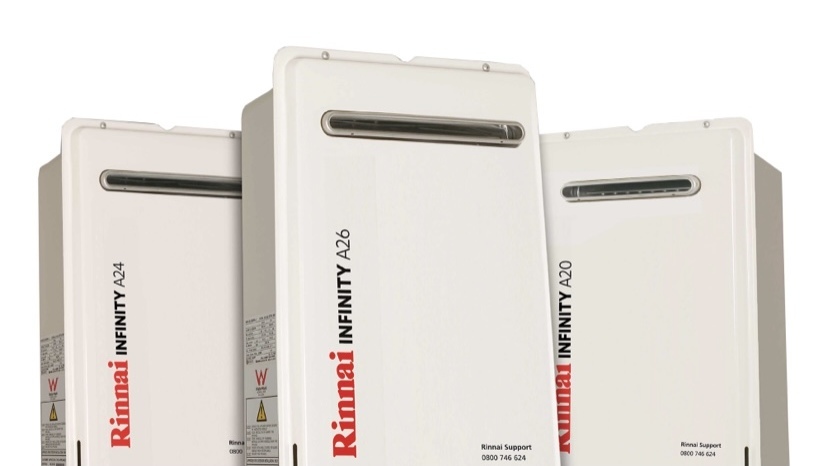 Benefits of a Gas Instantaneous Hot Water Installation.
The main benefit is that an Instantaneous Hot Water System provides Hot water on demand.
These units only heat the water as the water passes through so there is no need for a storage tank, this means you never run out of Hot Water, so you'll never have to fear freezing water again.
Free up space in your home.
When you have the right Gas set up for your home you will save money.
The Rinnai INFINITY A-Series are continuous flow hot water systems for residential applications.
These water heaters produce endless hot water, and unlike electric cylinders, are energy efficient as they are only on when you need hot water.
There are five models to choose from depending on your hot water needs. Model numbers represent hot water capacity, for example the A26 produces 26 litres of hot water per minute at a 25 ° Celsius rise.
*6 Star Rating
*Efficient design - Multiple units can be manifolded together to make larger systems
*Space saving - located outside to give you more space inside
*Clever design - These systems modulate to heat water at lower flow rates
*Adaptive - Supports lower flow rates required of new tap and bathroomware
Rheem Gas Continuous Flow Units
Rheem Gas Continuous Flow Water Heaters deliver hot water when you need it, for as long as you need it, and they only heat water on demand. ( as long as you have gas, water and power available)
The appliance can be conveniently mounted to, or recessed into your exterior wall, giving you precious interior space back.
*Flamesafe overheat protection
*6 Star energy rating
*Digital display for easy fault diagnosis
*Frost protection
*Indoor and outdoor models
*Rheem Ez link - Compatible to link two units for increased supply
format_quote
Jason was fantastic from start to finish. Arrived right on time and straight into it! He was polite, knowledgeable, professional, tidy and respectful. We went from hot water cylinder to gas and Jason went above and beyond. Thank you for doing such great work.

Deena - October 2022 - No Cowboys
format_quote
Jason was a genuine nice guy! Superb communication. Extremely professional and reliable. Outstanding work. Would absolutely recommend Jason to anyone! I can't thank you enough Jason!

Nina - August 2021 - No Cowboys
If you would like to find out the cost to install a Gas Hot Water system
We offer free no obligation quotes, where we can run through your Gas Hot Water options.
We like to stick to our quoted prices because no one likes nasty surprises at the end.
This is why we come out to your home to get all the relevant information to provide you with an accurate price.
Get a Quote to find out the cost to install a gas hot water system.
READY TO USE OUR SERVICES AND JOIN OUR LIST OF SATISFIED CUSTOMERS
We are more then happy to answer any questions you may have so please don't hesitate to get in touch.
@Copyright JVS Gasfitting ltd - Site map